The following is an article from the January 1986 issue of 16 magazine.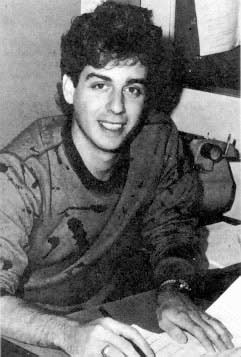 16 Chats With Kidd Video's Steve Alterman
TV's "Ash" Takes A Break From His Busy Schedule To Give You The Latest Update On The Show And Himself!
As Kidd Video heads into its second season, each of its stars -- Steve Alterman, Gabrielle Bennett-Rozzi, Bryan Scott and Robbie Rist -- is undergoing a few changes. Some are directly related to the show, others are what you might call "extra-curricular activities."
Last month, Robbie filled you in on all the latest In his life -- this month, it's Steve's turn.
16: Hi, Steve. You've been quite busy these last few months.
Steve Alterman: Well, this past summer I did a lot of traveling. I went to Europe, actually, and got to see all my favorite places. I enjoyed ltaly -- especially Rome and Florence.
16: And recently?
Steve: Recently, I've been keeping busy with Kidd Video and promoting a movie I did last year that's just out now called Big Trouble.
16: Did you enjoy doing the film?
Steve: Oh, yeah! I love acting. I'd like to do more movies, feature films -- more night-time stuff you know.
16: What other projects would you like to be involved in?
Steve: Well, eventually, I'd like to do a musical comedy on Broadway. That's one of my goals.
16: What are some of your other goals related to Kidd Video?
Steve: I'd really like the Kidd Video LP to be a success.
16: Kidd Video tried that last year, didn't they?
Steve: Well, we thought of it, but back then, being in our first year and all, everyone thought Kidd Video was just going to be a flash-in-the-pan, sort of like John Stamos' Dreams.
16: And now?
Steve: Now the show is taken a lot more seriously. It's being developed more. This album is being considered as a really good risk.
16: A tour is due to follow, correct?
Steve: Yes, hopefully there will be one soon.
16: Are you nervous about it?
Steve: No, not nervous, just excited.
16: Have you ever performed live before?
Steve: Yes, I have, with a couple of other bands in Canada and Chicago.
16: How do you feel about the changes in Kidd Video this season?
Steve: I think they're great. My character didn't get any major changes, but I like what they did to the show itself.
16: Such as ...
Steve: Well, the videos have been "upgraded" to accommodate the wider range of viewers we've developed -- thanks to 16's coverage of the show! We now have not only the younger kids watching it, but the older ones too, from 14 to 20 years old.
16: When you're not working, Steve, what do you do to keep busy?
Steve:
I've moved into my own place now, still in Los Angeles, and I have a studio at home where I like to record a lot of new music.
16: What type of music do you enjoy?
Steve: My favorites are jazz, rhythm and blues, musical comedy and a lot of the new stuff that's out now. I like listening to Tina Turner, Huey Lewis and the News and Teena Marie.
16: You also have another band, with Robbie, right?
Steve: Yeah, we do. It doesn't really have a name, because we're always changing it from week to week, but we do have a few songs recorded.
16: How far do you hope to take this project?
Steve: I'd like for it to go all the way, but right now there's just not enough time, with Kidd Video and all. We'll just keep it on the back burner for a while. Meanwhile, I guess you could say I'm just covering all the bases.
16: What else do you do in your spare time?
Steve: Just hang out with my friends, record, audition for movies.
16: What do you see in Kidd Video's future?
Steve: I'd like Kidd Video to have a hit record and for the show to be moved to night-time. Sort of like a sitcom, all done live.
16: And your own personal plans?
Steve: I'm happy as I am.
16: Well, thank you Steve. One final question: where can 16's readers write to you and the rest of the Kidd Video gang?
Steve: Any letters sent c/o Kidd Video, NBC-TV, 3000 W. Alameda Ave., Burbank, CA 91523 are sure to reach us! We love hearing from 16 readers -- why we're practically family!